Oh, it is good to be back! With 18,00 fans on hand, the Grizzlies kicked off their home schedule with a victory against the Detroit Pistons, and while it was pretty, or efficient, or even really all that encouraging, it's like my man Ghandi used to say, "A W is W, don't matter which end you start drawing from."
Mike Conley led all scorers with 22 points and added five rebounds, four assists and two steals. Scoring guard Tony Allen added 16 points (6-10 shooting, 3/3 layups) to go along with five steals, four assists, and three rebounds.
Memphis got off to a slow start, tallying only 17 points in the first period, and turning the ball over seven times. Detroit took advantage of the Grizzlies miscues and led by four after one, fueled by eight of Rodney Stuckey's 19 points off the bench.
In the second quarter, led by Kosta Koufos and the Grizzlies' reserves, Memphis was able to steady things and build a comfortable lead. It looked like the Grizzlies would start to pull away, but physical play and good Piston shooting combined with more Grizzlies giveaways would prevent them from doing so.  The Grizzlies made 12 of 17 shots in the quarter, but only led 47-41 at the break.
The game had a very similar feel coming out of the locker room, as the Grizzlies would see their lead extended to double digits with six and a half minutes to play. Then the Pistons exploded, scoring 10 points in one minute and fifteen seconds, five of which simply came from Greg Monroe being a grown man in the paint. This run would carry the Pistons to a two point advantage heading into the fourth.
Detroit would hold a steady lead in the quarter, matching the Grizzlies buckets and capitalizing on their many, many turnovers. With under five minutes to play, the Pistons led by 7. You could feel a strong uneasiness in the atmosphere of the forum, and a guy behind me that had been barking nonsense all night shouted, "Time to go get Lionel!" The Grizzlies would not be defeated on this night, and they started riding the reigning Defensive Player of the Year. The big fella tallied eight points in the final two and half minutes to help carry the Grizzlies into overtime.
In the bonus session, it was all Memphis.  The Grizzlies held the Pistons scoreless over the first two minutes, and saw a lead as large as eight points.  Memphis was up six with the clock winding down before Will Bynum chucked up a 3 at the buzzer to push the final score to 111-108.
Game Notes from the Legend-Diary
The Pistons may no longer be bad boys, but they are grown men. They were physical all game long, and not in a dirty way, but just in a good, hard basketball way. Most of the Grizzlies turnovers were lazy passes and poor execution, but credit the Detroit D, it was quite impressive.

Mike Conley got big boy'd all night long by the Piston guards. It didn't matter if it was

Chauncey Billups

, Rodney Stuckey or Will Bynum. He simply could not match or handle the physicality of any of their guards. We've seen Mike struggle with bulkier guards in the past, (I'm looking at you,

Eric Bledsoe

) but the better shape and larger arms he is sporting were supposed to help him with that. In this particular game, it did nothing.

The Grizzlies are undefeated when they turn the ball over 20 or more times.

Marc Gasol

had 8 shot attempts. Eight. He had five assists, so he was getting a decent amount of touches, but Dave Joerger has to find a way to get him to be more assertive and keep him more involved in the offense. The Grizzlies simply aren't talented enough offensively for him to not shoulder a majority of the burden on his broad, Spanish upper body.
The Grizzlies had 34 bench points tonight, and that's without

Jon Leuer

, aka Game Change, aka The White Mamba, aka 3-0 Be my hero, aka The Minnesota Mauler, aka Leuer Nation, aka Drops buckets, seeing any game action

Memphis shot 52% from the field and 83% from the line. If they can cut down on the turnovers, this could be a fun and efficient offense.

Obligatory mention of the little redheaded girl from a Keith Edwards post.

Rick Trotter did the National Anthem before the game, and my man was clearly working on his vocal runs during the offseason, because he delivered a powerful rendition, by far the best he's ever done in my opinion.
Memphis heads to Dallas to take on the Mavericks in the second game of a back to back, and we can only hope they'll play a sounder basketball game, and that Mike Miller doesn't see anywhere close to 32 minutes of game time again.
I write this recap with a heavy heart tonight/this morning, because I found out that Johnnie Edwards, the man who has season tickets next to me, passed away from a massive heart attack recently. He and his wife were season ticket holders from the moment the Grizzlies arrived in Memphis. He was a good man, a tremendous husband, a die-hard fan, avid dog walker, and he will be greatly, greatly missed.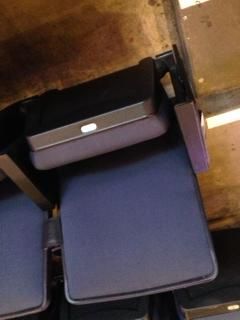 More from Grizzly Bear Blues: